Samsung Galaxy Book S, a Samsung laptop with a new innovation in its company. Samsung combines the ARM hardware that is Qualcomm Snapdragon with Windows-on-ARM software.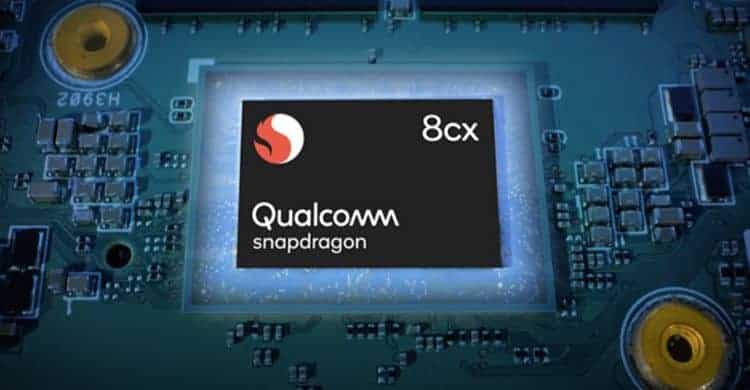 It uses 7nm 8cx Octa-core 64-bit fabrication processor, combined with 8GB of RAM LPDDR4X and 256 GB of SSD storage, which will provide good strength and speed.
Interestingly, the performance and performance of the Snapdragon 8cx could be similar to the 8th Gen Intel Core I5 U-series (like. I5-8250U). But for this Snapdragon is ensured laptop will not be hot as it is wearing Intel processors. Although Samsung does not embed the cooling fan on the Galaxy Book S, the fanless also makes it thinner.
In addition, the Samsung Book S can also be filled with a 1 TB capacitance microSD card. Then the GPU has integrated the processor Adreno 860, which is reliable for the management of graphics.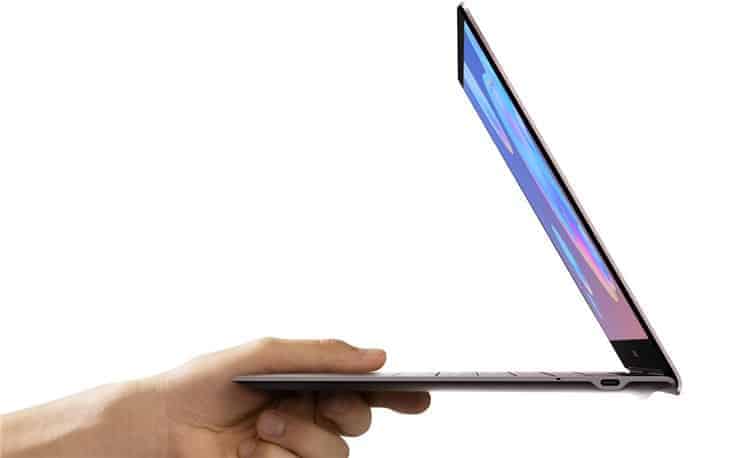 Samsung Book S is a super lightweight laptop that weighs 960 grams. It has a size of 305.2 x 203.2 x 6.2-11.8 mm.
This is a mobile laptop, meaning you can use it anywhere, plus an ARM device will support to always be connected to the Internet. Because it uses integrated LTE connectivity and Wi-Fi 5 (802.11 ac). Laptops can use SIM like a Smartphone with Nano SIM size.
The usage time can be up to 1 full day, because the durability of the battery is remarkable for 42Wh capacity. But the most that makes it power saver is the mobile chip that he uses.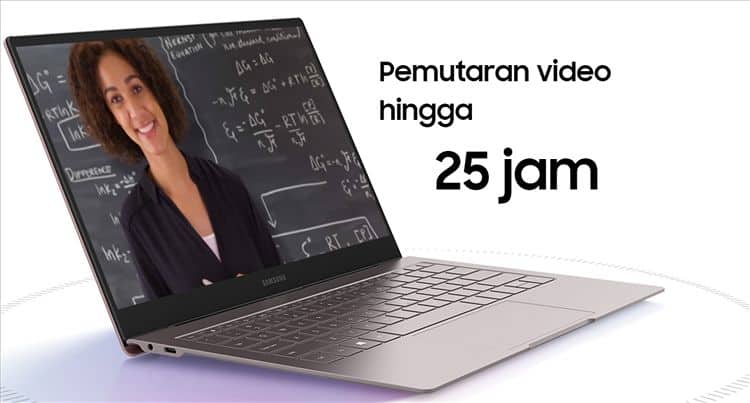 Samsung has tested the laptop Galaxy Book SFOR video playback, the results are able to last up to 25 hours. Although the test is done with the default settings of audio and brightness, and without connection to Wi-Fi or mobile networks. And it looks like endurance will vary somewhat differently depending on usage.
Windows Hello fingerprint as laptop security from Galaxy Book S. As a mobile laptop it is very important to keep your personal data important.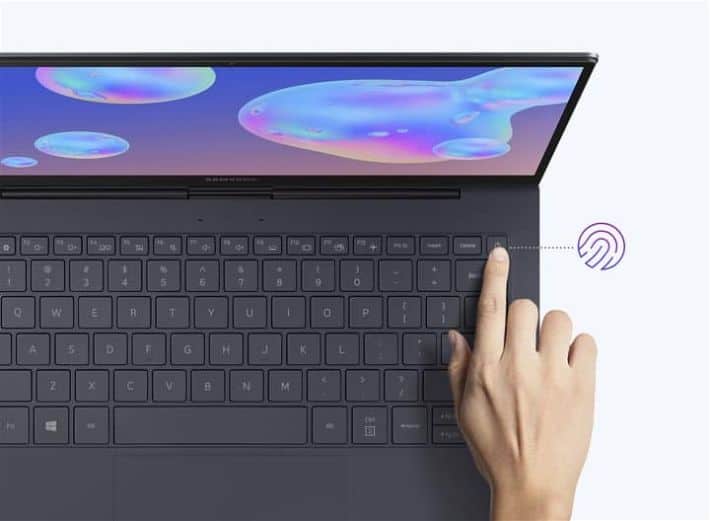 Uniquely this Samsung innovation puts the fingerprint sensor on the power button, or so one with the power button. This will make it easier to log in, just press one button to access the device. To turn on and unlock. The Keyboard also has backlit features for the beauty of its design.
The screen display uses a 1080p TFT LCD panel with an area of 13.3 inches, has an aspect ratio of 16:9 including touch screen support and 10-point multitouch support.
Although the Snapdragon 8cx is a 64-bit architecture, but Windows ARM devices are only limited to 32-bit support only. But if it's only for mobile productivity usage, office spreadsheets or presentations, browsing and entertainment is definitely a great fit.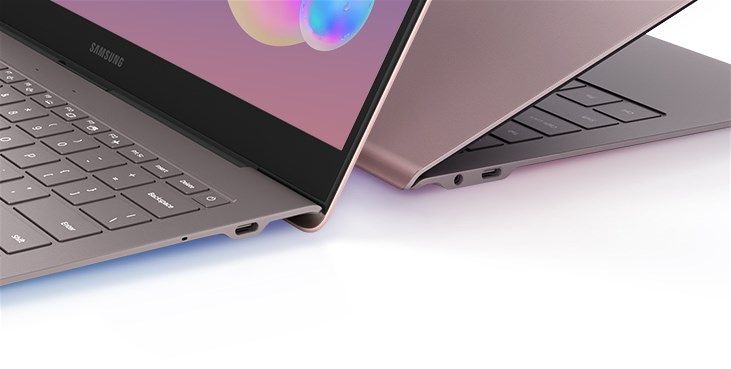 For device connectivity support, there are only 2 USB type C ports and a headphone jack. It's because of its very thin laptop. And the USB type C is also used to charge the laptop battery, and without having to use a large adaptor.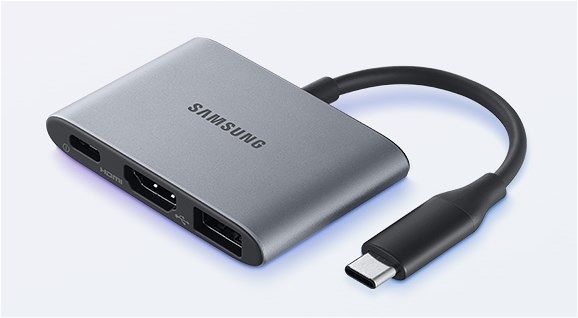 In addition Samsung has a Multiport Adapter product for connecting USB 3.1 and HMDI, as well as for fast charging. But unfortunately Multiport Adapter is offered with separate sales, not one package with the purchase of a laptop.
Galaxy Book S Specs and price
Type of Laptop
Notebook, Ultrabook
Color
Gold Earth & Mercury Gray
Dimensions
305.2 x 203.2 x 6.2-11.8 mm
Weight
0.96 kg
Screen size
13.3 inches
Resolution
1080p FHD TFT (16:9)
Panel
Touch screen: 10 multi-touch dots
Processor
Qualcomm Snapdragon 8cx Compute Platform
7nm 64-bit Octa-core
Max 2.84 GHz + 1.8 GHz
Internal Storage
256GB SSD
Ram
8GB LPDDR4X
Memory slots
MicroSD slot (up to 1TB)
Connectivity
1. Wi-Fi 802.11 a/b/g/N/AC (2.4/5GHz) & VHT80 MU-MIMO
2. Bluetooth 5.0
3. Location (GPS, Galileo, Glonarab, BeiDou)
4. Microphone
5. USB Type-C
Camera
720p HD
Audio
Stereo speakers: Sound by Ak
gwith Dolby Atmos® Technology
Sensor
Fingerprint, Sensor Hall, Backlit Keyboard on/off
Operating system
Windows 10 Home
Authentication
Windows Hello Login with Fingerprint
Network
LTE Cat. 1
8Nano SIM
Battery
42Wh
The specs above is the Global version. Furthermore the Galaxy Book S is offered by Samsung at a somewhat expensive price, $999.99 or a range of 13.7 million Rupiah. Book S is not available in Indonesia, but it is also possible to be available later.
Reference sources: samsung.com, reviewgeek.com, and notebookcheck.net