The AMD Ryzen 7000 series was launched as the successor to the 5000 series and this took over the Intel Gen 12. Many new technologies were announced by doctor Lisa Su (CEO of AMD) at the launch event of the Ryzen 7000 series processors in Austin Texas, United States. Start the new architecture zen 4, 5nm fabrication, AM5 motherboard platform, and others.
The following are some of the new technologies introduced by AMD.
Ryzen 7000 series with Zen 4 and 5nm technology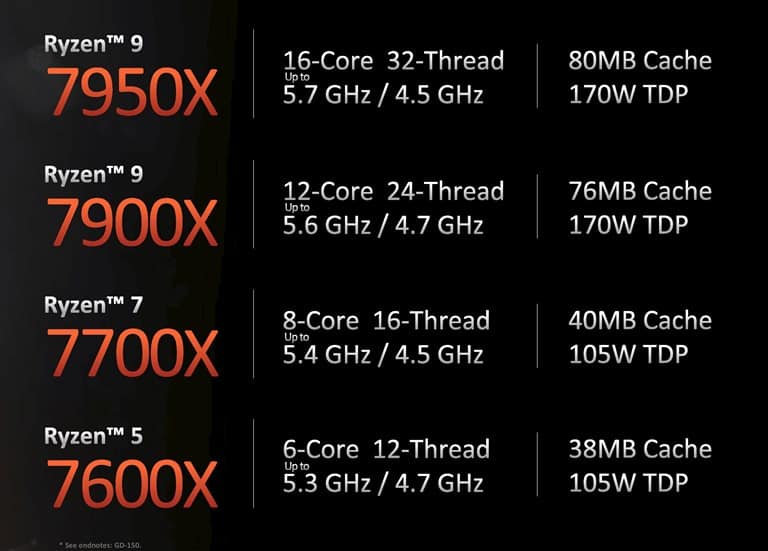 Ryzen's new processor for computer desktops, after AMD's 5000 series jumped directly to the 7000 series, there is no Ryzen desktop 6000 series.
The Ryzen 7000 series processors began to be introduced with 4 variants, namely:
AMD Ryzen 9 7950x (16 core 32 threads) for $699
AMD Ryzen 9 7900x (12 core 24 threads) for $549
AMD Ryzen 9 7700x (8 core 16 threads) for $399
AMD Ryzen 9 7600x (6 core 12 threads) for $299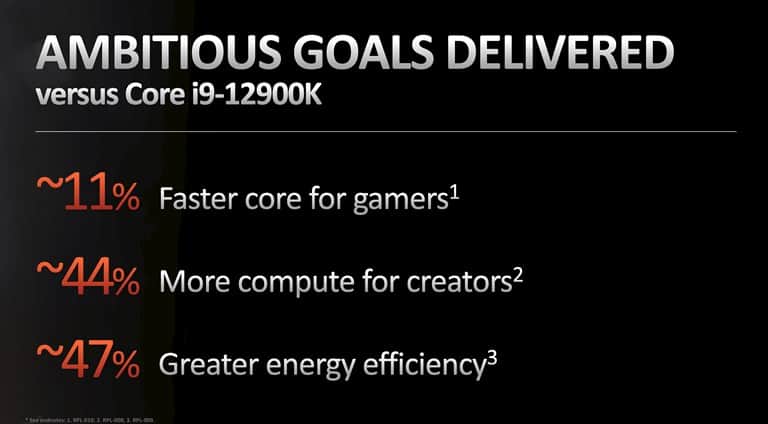 Well, this latest AMD processor offers many new technologies as well. First is the Zen 4 CPU architecture. According to AMD when compared to the previous generation (Zen 3), Zen 4 has a 13% higher IPC speed.
Thanks to the increased IPC speed the processor can reach a boost of 5.7GHz, the Ryzen 9 7950x is able to outperform its predecessor (5950x with a clock speed of 4.9GHz) which is claimed to be 29% faster.
AMD also compared it to its competitor 12900k as the fastest chip. They claim the 7950X can be 11% faster overall, even for the Ryzen 5 class the 7600X can beat the 12900K by 5% in games.

Not only that, the Ryzen 7000 series lineup uses 5nm TSMC fabrication. AMD said with this technology their processors have a 50% smaller Die size and 47% better efficiency than competitors (alder lake).
When compared to the Ryzen 5000 series in the same performance load usage, the 7000 series range consumes 67% less power. And at the same power usage the Ryzen 7000 series can have 49% faster performance.
DDR5 with AMD EXPO Technology

It then supports DDR5 memory whose bandwidth is much higher than DDR4. But please note that 7000 series processors can only run DDR5 and cannot be paired with DDR4 RAM. So it's not like intel alder lake.
This is a technology similar to XMP profiles, so there is a profile setting for memory sensitivity above the standard. With AMD EXPO users can get higher memory speeds simply by uploading an existing profile. You can use the Ryzen Master application or from the bios, so you don't have to worry about manually overclocking the memory anymore.
AMD EXPO technology can at least support memory speeds of at least 6000MHz to 6400MHz, and it is very likely that it can be even higher in the future.
AMD has partnered several companies, such as Adata, Corsair, Geil, G.Skill and also Kingston. At the time of launch, 15 memory kits were available that supported AMD Expo technology.
PCIe 5.0 dan RDNA 2
Another new technology is PCIe Gen 5 support. AMD said there are 28 PCIe 5.0 lanes that motherboard manufacturers can allocate for graphics card or SSD devices. Whose devices will follow in the future.
Then the AMD Ryzen 7000 series also came with the iGPU RDNA 2. This is somewhat surprising because the previous generation (X-ending processors) didn't have integrated graphics, which required to wear an additional GPU to display images to the screen. As well as supporting AI instructions based on AVX-512.
But please note that there are only 2 Core units with a Frequency of 2200 MHz, and only for displaying images to the monitor or light activity playing videos. This will be especially helpful when there is no external GPU attached.
Using an AM5 Motherboard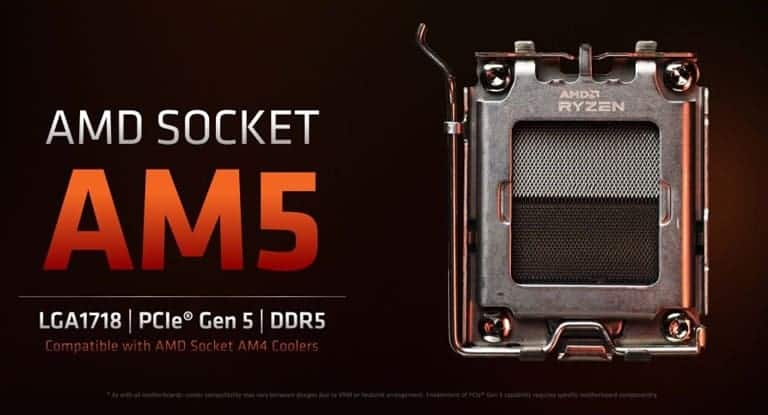 Not only that, the AMD Ryzen 7000 series also uses the latest socket, namely AM5, obviously this is different from the previous AM4. If the AM4 socket type is PGA or the processor pin is in the processor. While AM5 uses an LGA socket whose pin connector is on the motherboard with a number of pins of 1718 pieces.
Although it uses the new SOCKET AM5, but it is still supported by the old AM4 cooling system. If you want to upgrade from AM 4 to AM5, users can still use the previous cooling system and do not have to replace it.
Interestingly, the AM5 has had a very long support for several years, just like the AM4. At least AMD explained that at least until 2025, meaning that it may be even longer depending on future needs.
The first time the AM5 socket was launched on four new chipsets. Here are the differences.
AMD X670 Extreme: Comes with the best connectivity (many) and extreme overclocking capabilities with PCIe 5.0 support for graphics cards and storage.
AMD X670: suitable for overclocking enthusiasts with PCIe 5.0 support for storage and optionally for graphics cards
AMD B650E: In good performance design with PCIe 5.0 support for storage and optional for graphics cards
AMD B650: Designed for intermediate users with PCIe 5.0 support (optional if needed).
*PCIe 5.0 support in the X670, B650E, and B650 is optional (or not necessarily), meaning the series does not have PCIe gen 5 support but if manufacturers can add if they want.
AMD going forward

The company also explained that the Zen 4 architecture will also have other variants, namely the Zen 4 3D V-cache and Zen 4c. Then the upcoming Zen 5 architecture will be present in 2024.
So that's some important information about AMD's new technology, from what the Ryzen 7000 series offers is very promising, it can even beat the Intel 12th gen.