Apple presents the iPhone 14 with Plus, Pro, and Pro Max models on September 7, 2022. Now they no longer offer mini-models, as in the iPhone 12 and 13.
The device will focus more on security than on new specifications. But some new specifications and features are also very interesting, such as camera capabilities, dynamic island and others. Here are some of the new specifications in the iPhone 14.
Absence of SIM Card Slot (in the US)
In the US or to be precise the US version of the iPhone 14 does not have the support of a physical SIM card slot. Now to connect to the mobile network the device has relied on the eSIM. Inevitably, you have to have an eSIM if you want to switch to an iPhone 14.
eSIM is short for "embedded SIM", which is used instead of a physical SIM card, users can choose and enter a number or maybe switch to another carrier without having to remove a physical SIM card. This is not something new, it used to be that the first model to implement an eSIM was the iPhone XS.
With this feature the carrier can be turned on quickly through iOS Settings. The iPhone 14 can store up to 6, while the iPhone 14 Pro can store up to 8. This is specifically in the US country, for international models the iPhone 14 lineup will still support a physical SIM card slot (for now).
New Satellite Connectivity
All iPhone models in 2022 have a new feature called Emergency SOS via Satellite. As the name suggests, it allows the iPhone to connect to a satellite network in an emergency in an area that has no cellular coverage. The service will be available in the US and Canada in November.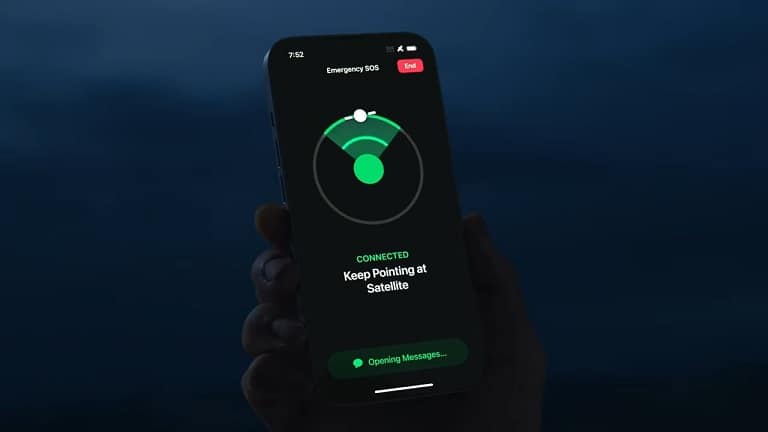 Satellite communications use text messages to connect with SOS services, even those who only receive voice calls thanks to Apple 'relay centers" that forward text messages. Apple also supports non-emergency use, such as letting friends and family know you're okay when you're out of cellular range.
Tidak ada model iPhone mini
The standard iPhone 14 comes with a 6.1″ screen, while the iPhone 14 Plus model is 6.7″ in size provided for those who want their phone to be larger. Unfortunately, the Apple iPhone 13 mini 5.4″ did not get a successor this time. There is also no information on whether Apple will make mini-models in the future.
The two iPhone 14 models have a similar appearance and capabilities to the iPhone 13 Pro, Apple still relies on the A15 bionic chipset, but with 18% faster GPU performance.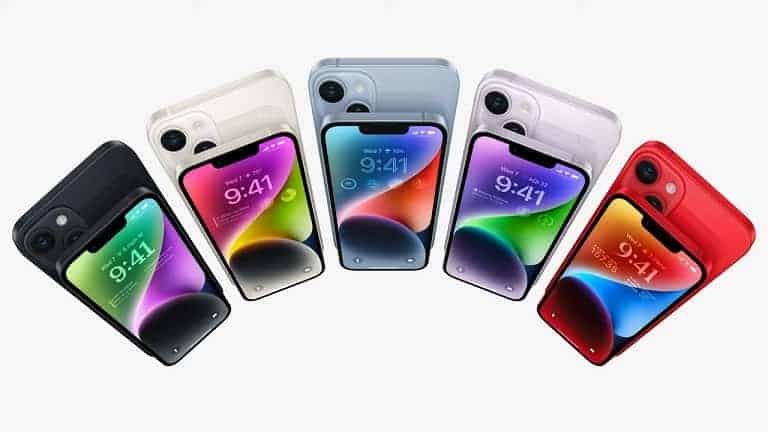 The top series is the iPhone 14 Pro sailing 6.1″ and the iPhone 14 Pro Max with a 6.7″ screen. Both models use the A16 bionic chipset, which they claim is more efficient and 40% faster than competitors in 2022.
Crash Detection across All Models
Thanks to the improved "high dynamic range" gyro and the new "high-g" accelerometer, Apple launched a feature called Crash Detection on all iPhone 14 (and Pro) models. With this the iPhone can detect the occurrence of a car accident and offer users to contact emergency services.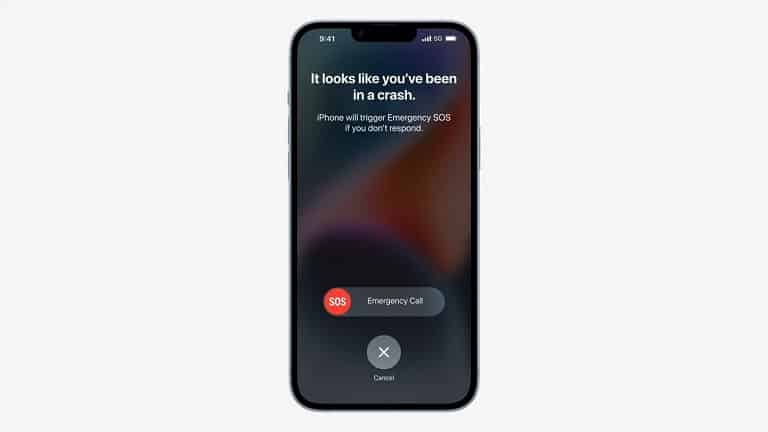 If the user doesn't respond to the request, the iPhone will still ask for help (emergency services) and Siri will still provide information about the location. It makes sense that if you experience an injury, of course, the user will not respond to their phone.
This feature relies on data collected by onboard sensors, including sudden changes in speed, sudden changes in direction, loud noise levels, and changes in cabin pressure due to the deployment of airbags.
Nice Long Notch (iPhone 14 Pro)
Apple has redesigned Notch for their phone on the iPhone 14 Pro, and has also given the look a strange new name. Dubbed Dynamic Island, yes that's right this is a Dynamic Island, the redesign is more similar on rival Android devices. It houses a front-facing FaceTime camera, an ambient light sensor, and the sensor needed to unlock the phone which is FaceID.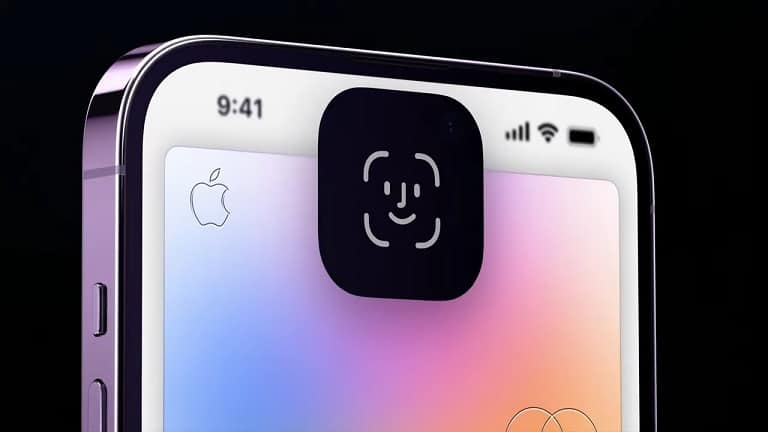 But unexpectedly Apple managed to decorate it very cleverly by integrating Notch into iOS 16 so as to make the black space look useful. Notch can blend in with notifications, music being played, directional pointers and many others all wrapped in slick animations.
To make it work, Apple managed to shrink the True Depth camera system used for Face ID by 31%. There is also a proximity sensor behind the screen that saves even more space.
Brighter, Always-On Display (iPhone 14 Pro)
Earlier in iOS 16 introduced widget features and live activities. Now that's more interesting, because Apple implemented the always-on display feature in the iPhone 14 Pro, which makes the screen display always on to see other important information without picking up the phone. This feature is exclusive to the iPhone 14 Pro.
The always-on display feature is utilized because they use LTPO screen technology which can reduce the screen refresh rate as low as 1Hz and combine with the dimness of the smart screen to maintain battery life.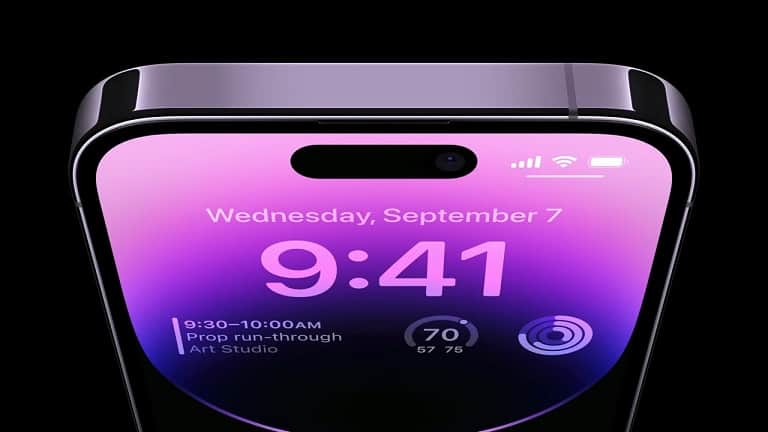 Phones take advantage of proximity sensors to detect when your iPhone is facing down or placed in a pocket, then turning off the display to save battery life. It's like an always-on Apple Watch display implementation.
In addition, the screen is now capable of reaching a brightness of 2,000 nits in sunny daylight (twice the brightness of the iPhone 13 Pro) or 1,600 nits when displaying HDR photos and videos (up from 1,200 nits on previous models).
Improved Camera and Flash (iPhone 14 Pro)
The A16 bionic chipset with an advanced camera system makes the power of the iPhone 14 Pro camera increase.
The main camera of the iPhone now uses a 48-megapixel quad-camera, which is four times the iPhone 13 Pro's 12-megapixel. The 65% larger sensor size allows more light to enter each shot, which is beneficial when shooting in low-light environments.
Previous shots users were given 0.5x, 1x, and 3x telephoto options, now Apple is adding a 2x telephoto option using a 48-megapixel sensor that can take 12-megapixel full photos and optical quality 4K video. With a larger sensor and faster aperture than before, it will result in better photos and videos.
Cinematic mode that is able to mix 4k videos at 30 frames per second, of course this is an increase from the previous one which was only 1080p 30fps. The action mode is a new option for recording video from the palm of the hand, which stabilizes the recording without the need for gimbal tools.
Finally, a redesigned TrueTone flash with a series of 9 small LEDs that can adjust the pattern and intensity, depending on the length and focus composition of the photo. It can be twice as bright with uniformity up to three times better than before.
Although the iPhone 14 Pro received most of the upgrades here, Apple has promised a new "Advanced" dual-camera system with better low-light performance on the base model this time around.
The pro model got quite a lot of improvements, for the standard model Apple promised a new "Advanced" dual-camera system with better low-light performance.
How much does this Apple device cost? The new iPhone 14 is available on September 16 starting at $799, with the iPhone 14 Plus coming in on October 7 from $899. The iPhone 14 Pro (starting at $999) and Pro Max (starting at $1099) are also available on September 16.